Having a crush on an actor or an actress is nothing new to any of us. Some of us even have a list of all the celebs that we have an eye on. We know how it works. We spend loads of time being obsessed with their movies/shows, photos or even interviews of that particular person. We also can't stop ourselves from having intricate fantasies that most of the time involve bumping into your celebrity crush accidentally, finally getting them to notice you as you charm your way into their hearts and finally end up having your happily ever after. But let's face it, all of us are also aware that nothing of that sort is ever going to happen. Which is exactly why when we hear about stars crushing hard on another star, it throws us for a loop. We don't really know what it's like for them. Since it isn't all that implausible for them as it is for us, isn't it? Basically what we want to know is, how does it actually work when a star has a crush on a fellow colleague or a co-star?
The very recent tweet from Aly Goni, the Yeh Hain Mohabbatein star confessing his long time crush on the very gorgeous Jennifer Winget tells us that maybe it really isn't all that different at all, even for celebs.
Jennifer has always been one of the most stunning actresses of the TV world. And the girl has some serious acting skills as well. So of course it comes as no surprise that she has never really had a hard time capturing hearts, non-celebrities and celebrities alike. We have heard more than one celebrity admit to having a crush on the actress and it looks like Aly Goni isn't a recent addition to this ever-growing list. Yep, the actor fanboy admitted to having been in love with her from a long time now. 10 years, he confessed. Well, looks like it isn't just us commoners who have hopeless crushes on celebrities for unhealthily long times. Thank you Aly for not just letting us know that not only is it okay to have one but also be quite proud of it.
Going by what he tweeted, we can see that the actor really wished he had, had the opportunity to meet her in person. Which was pretty surprising seeing as how they all work for the same industry. Well, we aren't exactly sure how that works, but unlike us, the commoners we are sure it isn't all that impossible for this particular fanboy to actually get his wish. By now, we are also sure Jennifer has already heard all about his very adorable confession. We just want to let him know that we are all rooting for him right now. We hope he gets his wish soon enough.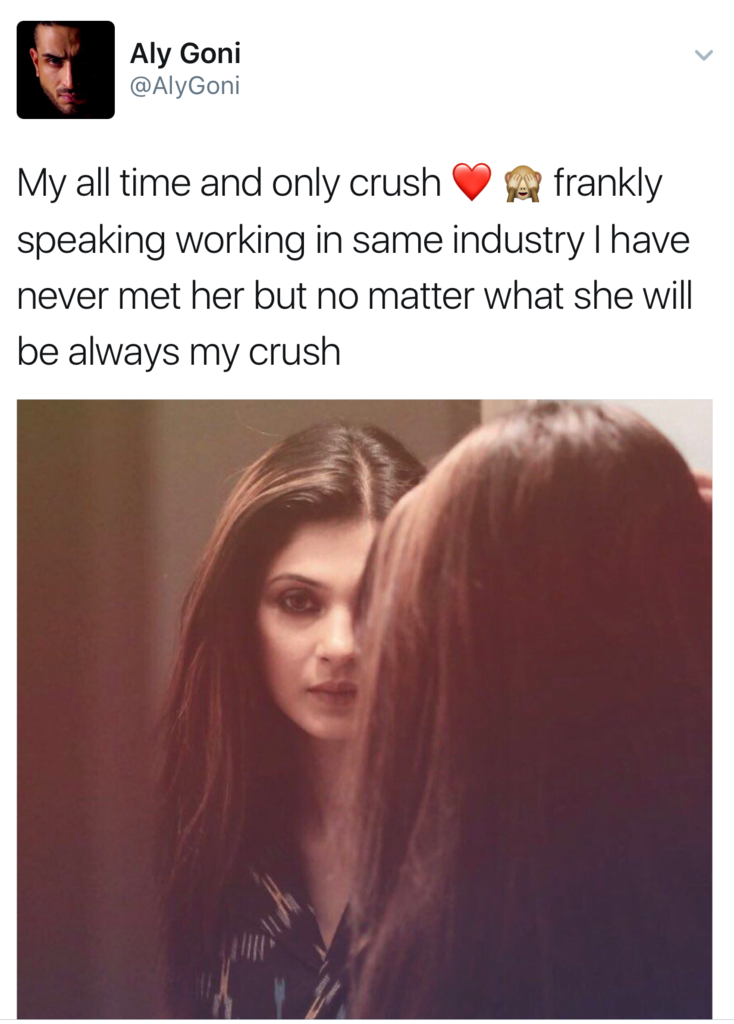 Geetha Reddy